This site is a placeholder for my Drupal URL!
In theory I should be filling the site up with SEO keywords: Web developer, frontend, backend, PHP Symfony, data scientist, customer support successinator.
Is this a real site? Not really!
Right now I am practicing:
how to deploy and backup
how Drupal + Apache get along
how to make the sub-domains reach the parts of drupal.farm, dumpling.drupal.farm, and urls.drupal.farm
This is a multi-site, meaning there are three separate sites all working from the same Drupal Installation. The URL was available for $10 so I am just leaving something here for SEO purposes too.
Made in Wisconsin
If you are near Dane County contact me about collaboration. I am looking for partnering opportunities.
Drupal sites
My other Drupal investigations so far:
Best Way to Know Good People
Be a good person.
Know lots of people.
Evan Genest contact info
I have contact info and coding examples at The Little Furnace.
Summary of the UX Process
I took a Drupal UX class given by Evolving Web, a Drupal agency in Montreal.
I signed up for the class a bit accidentally. I meant to just take the more backend specific Drupal workshop but when I saw that there was a UX workshop and it was taught by someone who is a bit famous in Drupal, I signed up.  It was totally worth it! Here's the main thing that a pure coder type person might not know to do if they are new or naive (*raises hand*).  Before starting to code, a site needs to be planned. Green field development can follow the steps below. Notice that the actual coding comes pretty late in the sequence:
Questionnaires. Get out of your own head. The closer you get to what your real users are like the more they will enjoy what you build.
Develop fictional personas.

a random person who arrived by organic search
a current employee
a volunteer to your org
a job seeker
a potential customer

Map ideal journeys those personas would take on your site. What you're paid to do is align what the user feels is a happy experience and what your organization considers a happy experience. Notice we have not written any code yet.
Inventory the existing and potential content.

if a competitor site or your org's existing site are relevant you can inventory those. An automatic free tool for building a data tree of site content is at Screaming Frog

Architect your site. Design the relational database. Make wireframes.
Concept! Let the designers mock up some pages.
Develop. Realize the site in code.
Continuous Improvement.
This is a very reductive list; you could spend a couple hours talking about each of these sites (consider point number 7, e.g.)!
Let's serve a random image. Here is a screenshot I made during our Evolving Web UX workshop: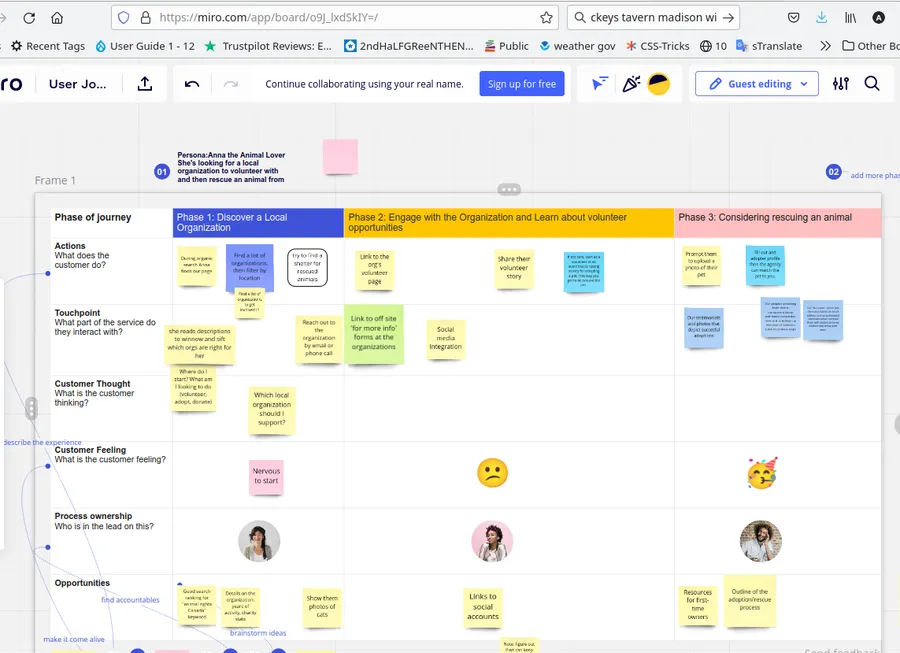 https://tatll.me/images/journeys-whiteboard-at-Miro-900w.webp